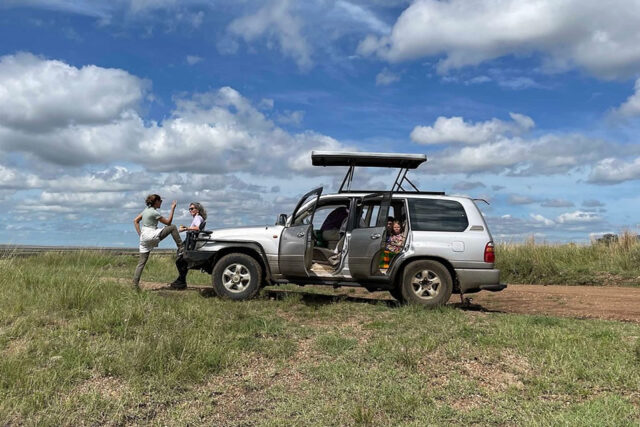 Uganda is a vast country with a lot of occurrences. They range from businesses, conferences, adventure and tourism. Tourism is one of the sectors which bring foreign currencies to the country. It of no doubt, the sector has grown tremendously due to many factors. Some of them include security, marketing and development in infra structure.
There are many types of tourists, some come for family adventure, business, conferences and meetings, honeymooners, safaris for couples, solo travelers and many others. There are quite ways of doing safaris in Uganda, some clients opt to do all-inclusive safaris where by accommodation, transport, meals, driver guide and others are all catered for an operator and the Quotation includes those expenses. Some clients do camping safaris. This includes paying for camp grounds on different accommodation facilities to pitch the tents or rooftop tents. This kind of safaris is mostly done by adventure tourists and those with tight budget.
Another option to tour Uganda is through car hire services. This is where clients hire a car in Uganda and drive themselves to different destinations, some also go ahead to hire a driver and just sit behind to enjoy the tour. With this option, mostly visitors handle the bookings like accommodations, activities and meals well as others the bookings are done by the car hire company. The experience is magical to tour on your own, it doesn't matter whether you are in a group, family with kids, couple, solo travelers, self-driving is suitable to any class of visitors. Here below let's look at the natural phenomena in Uganda which can be visited on self-drive.
Gorilla Tracking: Uganda is one of those few countries where you can track mountain gorillas. The country has two national parks, Bwindi and Mgahinga National parks. It is necessary to have the gorilla permits which are purchased from Uganda wildlife Authority, Acar hire company can handle the purchase of the permits from Uganda wildlife Authority.
Chimpanzee Tracking: There are many places in Uganda where visitors can track Chimpanzees but the most popular one is Kibale National Park. Chimpanzees are the most immediate relative of Human and to enjoy them in their nature environment is spectacular.  The experience is a life time to spend one 1hour following chimpanzees. They are a bit active and playful most especially the young ones.
Wildlife: Uganda is endowed with many wildlife National Park; they are over 10 and many National reserves. Visitors can see the big five, plus many other animals in their natural environment. Some of the national parks includes Kidepo, Murchison falls, Lake Mburo, Queen Elizabeth and others. Self-drive clients can do Game drives and behold many attractions. In case a self-drive client prefers someone to explain different attractions and the trails in the park, there is an option of hiring a park ranger or park guide to give detailed information.
Birding: Uganda is a perfect place for birders. Birds are natural gifts and they are many in different types. In Uganda, visitors can see birds in Mabamba Swamp in Entebbe, Botanica gardens Entebbe, Bwindi national park, Mgahinga National Park, wildlife parks, and many others. Some birds are migratory and other are not.  The perfect time of the year to enjoy birding safari is in rainy season.
Mountaineering: Self-drive clients engage in mountaineering activities in Uganda. Most of the visited mountains are Rwenzori and Mt Elgon in the Eastern side of Uganda. For Rwenzori, it takes approx. 7 to 8 days to reach margarita peak, the days can be more in case the client prefer to see other peaks or the days can be fewer in case the client is not summiting.
Natural walks in the National parks and forests: If the walk happens in the forest, it's called forest walk. Walking in the park or forest makes a visitor to come closer to the attraction. There are long and short walk, there are different attractions to view on water Natural walks like water fall, small animals, and the topography of the land. Some places where natural walks can be done in Uganda include, Bwindi, Mgahinga, Mabira forest, Semliki National Park, Murchison falls, sipi and many more.
Water based activities: There are many water bodies in Uganda, like Lake Victoria, Lake kyoga, River Nile, Sipi River, Lake Edward and Lake George, Lake Albert and many more. Many activities happen on these water bodies like, swimming, boat cruises, Rafting, Bungee jumping, spot fishing and many more, self-drive clients in most cases end with such places to relax from long holidays and strenuous activities.
What is the best time to do self-drive tours
Self-driving can be done all year round but the best time to do self-drive tours is in dry season. This is the period when the rain is little and the trails and remote roads are not muddy.  But there are some activities which need to be done in rainy season like birding, that's when many species of birds can be spotted in different places including migratory and resident birds.
How to locate places on self-drive Tours.
Ugandan maps: This is of much importance as a navigation system for self-drive clients.  It locates most of the Destinations in Uganda.
Google maps. Most clients when they arrive in the country, they get local sim cards where they load data to access internet. Using google map it is easy, visitors need to put a tourist destination and then the google map will act as a navigation system to the destination.