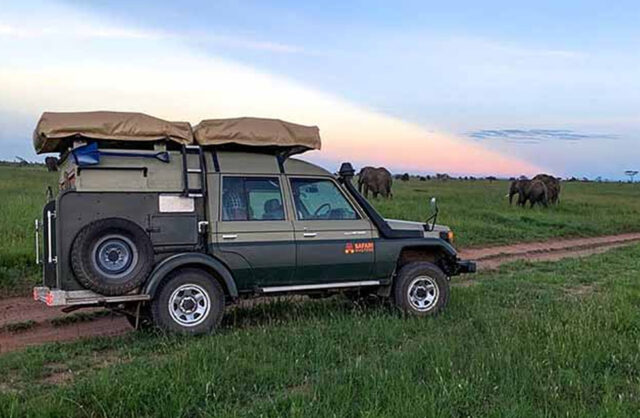 Kenya is one of the top destinations for safaris in African. Taking a self-guided/ self-drive through this magical land is one of the remarkable things to do. When planning to book a self-drive in Kenya, then should subscribe to the facts of getting right in order to avoid disappointments.
When in the process of renting a 4×4 rental for self-drive safari in Kenya. Have to consider some of the thing which are discussed below to enable you have a fantastic cruise. A self-drive in Kenya goes beyond just renting a car and hitting.
Hire a car from a reliable rental Agency in Kenya
Finding a trusted, reliable self-drive car rental company in Nairobi, Kenya can be challenging but it is one significant step any self-drive traveler must consider. Drive East Africa has always statured to avail such perfect car rental services which as well contain self-drive. You're on a safari in Kenya and planning for the off-road through various National Parks and Reserves, then have these perfect safari customized 4×4 vehicles for a great and rewarding adventure experiences.
4×4 rental cars in Kenya are the best for navigating through the wilderness areas because the roads aren't tarmacked like it is a case in Nairobi Capital City or most urban areas. Vehicles with low power and low ground clearance aren't a good choice for this case. When searching for a self-drive car hire company, make sure that you deal with one that is fully registered and has some experience in arranging self-drive tours.
Consider Health and Safety Measures
Kenya sometimes experiences an awkward moments of safety, due to domestic unstable political life especially in the post-election time. It's of great advice when one know the times of traveling to Kenya especially when taking a self-drive. However, there has been much terrifying moments attacking tourist from different tourist destinations beside in Nairobi.  Driving to different tourist destination remains safer for you. And also before embarking your safari it's important to be assured that you are in good condition. Never forget to take your basic medications and the first Aid Kit with all necessary tools that can help you treat yourself with minor treats or injuries like scrapes and cuts. Also the correspondent company needs to prepare you medical insurance before you take your trip, This will help you get the medical assistance anytime you need and anywhere around your trip destination.
Rental Cars for Self-drive in Kenya
For all your self-drive trips in Kenya, make sure that you look for a reliable car preferably fulltime 4×4 vehicle. Drive East African has offered to avail safari vehicles which are in a perfect mechanical conditions. Among out fleets to cruise with in Kenya include; 4×4 land cruiser TX our maiden safari vehicle, Land cruiser V8/VX/GX, Nissan Patrol and Safari land cruiser. Avoid aged and not serviced vehicles as they can breakdown while on your way to explore Masai Mara National Reserve on self-drive tour. Hire a car in Kenya with us and be guaranteed of a smooth self-drive tour. All our self-drive rental cars are highly modified to suit the kind of Kenyan roads which makes them exceptional from the rest.
Move with Cash and Recharged credit card
While driving in Kenya it's necessary to be prepared well for any incidence as far as making payments are concerned. When paying for fuel, accommodation, souvenirs, food, and tips you need to have both cash and wire transfer possibilities. So, you should consider always to have enough balance in your bank accounts, especially when some of your services are not paid yet like the Park entrance fees, Campsites, food and water and other extra stuffs.
It's also important to understand that your credit card must be either a VISA or MASTERCARD.  This can help you to access the bank services anywhere in the country. And maintain enough cash enables you to access any extra activities and services that have not to be included in your tour plan.
Present an International Driver's license
There is no way you can have a rental vehicle for self-drive without you having a driver's license. An international driver's license is the interpretation of the domestic license into the some common understandable language. The international driving license will help a tourist get access to hire a car for self-drive to cruise through Kenya National Parks and other Conservation Sites like the Controlled areas and Game Reserves.
International Driving Permit is a legal document that validates your license internationally and can allow you drive in foreign country. It can be acquired from your home country and it has a validity of 12months.