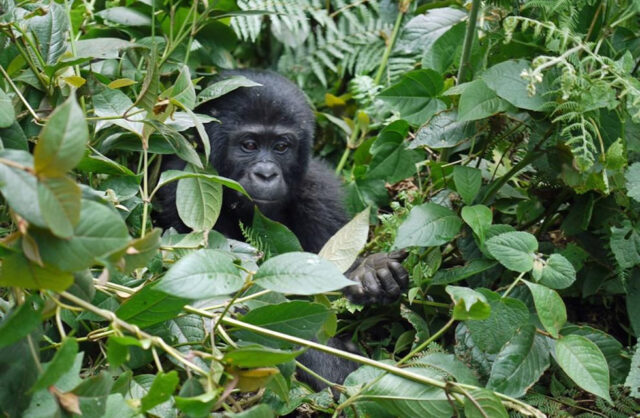 Would you like to experience something different while in Africa? Why not try out the amazing walk for up to 4 hours with the mountain gorillas in Bwindi Impenetrable Forest. This ultimate adventure is done in the Rushaga Sector of Bwindi Impenetrable Forest in south western Uganda.
The Rushaga region is located in the southern section of Bwindi Impenetrable National Park. It is located in Kisoro District together with Nkuringo Region. It has several gorilla families which include Nshongi, Mishaya, Busingye, Kahungye and Bweza.
The Rushaga sector boasts the highest number of gorilla families and lies between Kabale and Nkuringo coming from either Ruhija or Kampala.
The region is dominated by high hills and because of this, habituated gorilla families have kept on separating and subdividing to take up different hills in the region. Because of these hills, tourists who go on gorilla safaris from Rushaga tend to enjoy great scenic views and at some points, you can as well see the Virunga ranges in Rwanda and Uganda that include Mgahinga, Muhavura, Sabinyo, Karisimbi, and Bisoke among others. There is Lake Mutanda which is one of the only two lava damned lakes in Uganda. You can enjoy a canoe ride on the lake before or after your gorilla trek.
Wondering about where to stay on your safari? There is plenty of accommodation options. Accommodation for those interested in trekking Rushaga Gorilla Families can be booked in
Rushaga: Rushaga Gorilla Camp, Four Gorillas Lodge, Ichumbi Gorilla Lodge, Gorilla Valley Lodge, Gorilla Safari Lodge or even Chameleon Hill Lodge
Nkuringo Safari Lodge, Nkuringo Gorilla Camp or even Clouds Gorilla Lodge
Getting there
If you are driving, please budget for a whole day since it may take you approximately 9-10 hours drive on a winding road.
If you are interested in flying to Rushaga, you can book a scheduled flight operated by Aeroink or charter flights by Fly Uganda among other companies in Uganda.
How to Plan a great Gorilla Habituation Experience

It is only in Uganda that you can be with a Mountain Gorilla Family for 4 hours on a Gorilla Habituation Experience along with researchers in Bwindi's Impenetrable Forest – this amazing experience – to be with a Mountain Gorilla Family as it is being habituated is a one of a kind experience in Africa.
There are presently two family groups being habituated, meaning that they becoming used to human contact and will not run away from visitors trekking them.