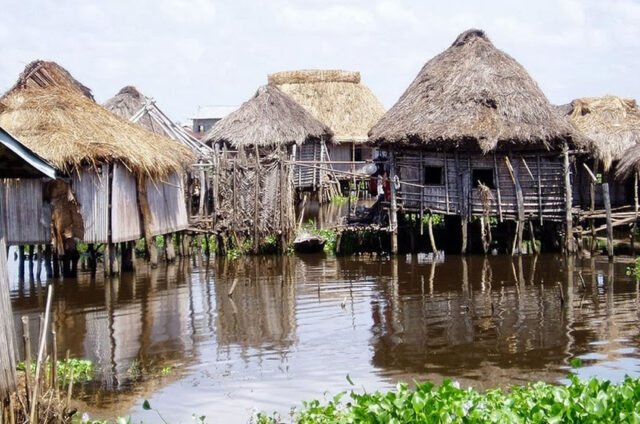 Ganvie is located in the country of Benin, West Africa. It is a village constructed on the Lake Nokoué. The exact location of this unique village is towards the north of the largest city and administrative capital of Benin, Cotonou. You will need close to an hour for reaching Ganvie from Cotonou.
Often it is said the locals of this village are not too affable towards the tourists visiting the place. However, if you can ignore this feature of the village, Ganvie is a place that's truly worth visiting. The entire town is built on stilts. Each of the shops, restaurants and houses of the village are constructed using wooden stilts and is located several feet over the water level. The tourist can hire a boat and spend the entire day there exploring the city. While on the boat, they can watch people shopping, selling, going to schools and offices etc.
Ganvie has no dry land in its surrounding regions. To be more precise it can be said that the village is situated on a lagoon's middle. It is advisable that you visit the village early in the morning; the weather of the lagoon starts becoming extremely hot around the afternoon, which makes enjoying the scenery a difficult task.
Although the tourists are not adored by the natives of this village, the primary earning of the people of Ganvie comes from the tourism and fishing industry. The fishermen of Ganvie breed and trap fishes using nets and underwater bamboo fences. The village is home to two restaurants, both of which serve high quality foods. The most sought after dishes served by these restaurants is different fish items, most of which taste best when eaten in combination with rice.  However, other than eating, the largest share of the time spent in Ganvie will include enjoying the magnificent surrounding and clicking pictures.