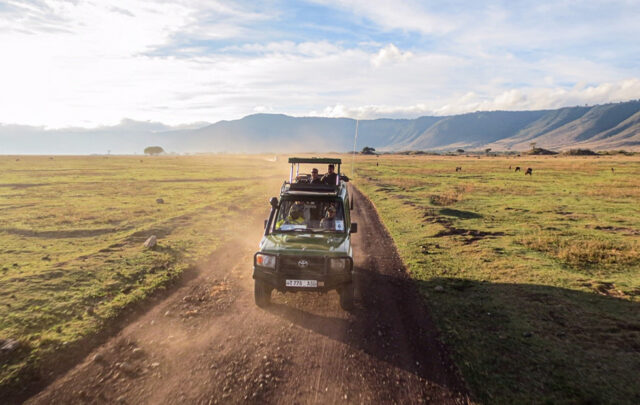 Travelling at your pace and instructions is one of the amazing experiences to encounter in your life-time. With self-drive exercise, have an unlimited comfort and flexibility to explore almost all the thrilling and adventurous attractions on the land of blacks. On this mighty African continent, there are over 56 safe countries positioned in different regions including Eastern, Western, Northern and Southern regions where one can go for a thrilling experience of self-drive.
In these regions, there is one of the countries which shouldn't miss on your travel plan to the continent and this country is known as the United Republic of Tanzania. Situated in the eastern sub-region of Africa, Tanzania is among the safest countries located within the African Great lake region. The country borders several countries including Uganda, Kenya, Comoro Island, Indian Ocean, Mozambique, Malawi, Zambia, Rwanda, Burundi and Democratic Republic of Congo.
Covering an area of approximately 947,303 square kilometers, Tanzania is known among the safest and best countries for self-drive road trips since it encompasses several safari destinations in different regions including North, South, and West and in the coastal regions.
During your road trip in Tanzania, your will drive to the safari parks where your will have an amazing wildlife watching experience. Tanzania encompasses over 20 wildlife destinations including Serengeti national park which is mostly known for hosting the annual great migration that involves the flock of millions of blue wildebeests, zebras, elands, gazelles and others. In the wildlife safari parks, hire the best and strong 4×4 vehicle to have a comfortable and convenient movement.
Among the safari vehicles to opt for include Land cruisers, safari vans, Toyota RAV4s, safari vans, mini vans, and others. With your heart at ease, drive to the wildlife safari parks of the country for wildlife watching. Among these destinations include;
Serengeti national park
In the northern region of the republic of Tanzania, Serengeti national park is among the best protected areas in the country for game viewing exercise. With an area of approximately 14,763 square kilometers, the protected area is known for hosting the largest number of animals in the annual great migration which is ranked among the 7 Africa's natural wonders and among the 10 world's natural wonders. In this migration, you will sight millions of blue wildebeests, thousands of zebras, elands, and Thomas' gazelles as they flock towards Mara river so as to cross to Kenya. Also, the national park is known for hosting the largest population of lions on the African continent. Other animals to spot in the park during the game viewing experience include the hyenas, buffalos, wild dogs, elephants and others.
Tarangire national park
Situated in Manyara region, Tarangire national park is among the Tanzania destinations to visit for wildlife viewing experience. Named after River Tarangire that crosses through it, the protected area's landscape is composed of granitic ridges, river valley, swamps and the vegetation which features acacia woodland, seasonally flooded grassland, baobab trees, and combretum woodland. With all these features, the national park is provides a splendid game viewing experience since it hosts several animals including high density of elephants, zebras, wildebeests, waterbucks, giraffes, impalas, cape buffalos, and others. Tarangire national park is also a home to different predators including lions, leopards, African wild dogs, cheetahs, honey badger and others.
Arusha national park
Located in Arusha region in the north eastern Republic of Tanzania, Arusha is another game watching destination in Tanzania covering a prominent volcano of Mount Meru. With an area of 200 square miles, the national park has a wide range of wildlife species including giraffes, cape buffalos, leopards, zebras, elephants, warthogs, bushbucks and many others. All these animals will be spotted during a game viewing exercise in the park driving tracks.
Lake Manyara national park
Named after Lake Manyara, Lake Manyara national park is another wildlife destination in the Republic of Tanzania. Stretching over an area of approximately 325 square kilometers, the national park boasts a wide range of wildlife species including wildebeests, grant's gazelles, Thomson's gazelles, bushbucks, waterbucks, Cape buffalo, hippos, elephants and many others. For the bird lovers, Lake Manyara is also among the best destinations to go since it hosts over 400 bird species including both the resident and migratory species.
Besides the wildlife safari parks, one can self-drive to Tanzania destinations for other adventurous activities including Mount Kilimanjaro national park for hiking challenges and many others.