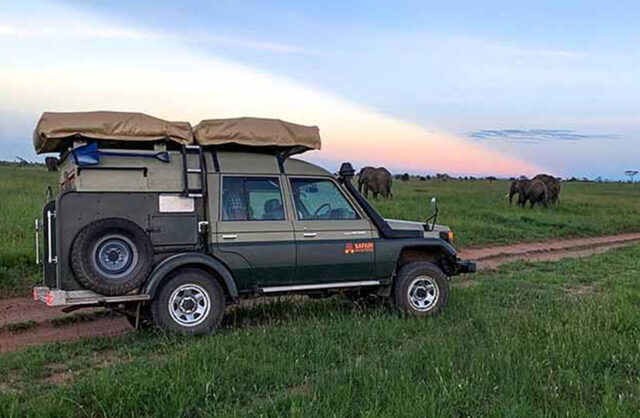 Kenya is a unique beautiful country. Explore all of it by driving when you get your International Driving Permit. If you like the great outdoors, an African safari is an absolute adventure that you'd want to add to your bucket list. And where else to experience the best safari adventures than in the home of the "Big Five", Kenya!
For those who do not know, the "Big Five" consists of the lion, the leopard, the rhino, the African buffalo, and the elephant. However, these are not all that make Kenya special. The country stands out as the third largest tea producer in the world, the site of the Great Wildebeest Migration, the home of the world's fastest runners/athletes.
Kenya's rich culture and biodiversity are supported by its diverse landscape, which is also what makes Kenya drives an excellent activity during your trip there.
This driving guide will help you navigate Kenya with ease. Kenya has an efficient road network that connects all 47 counties; however, this isn't the only ingredient of a trouble-free driving experience. This guide will walk you through the requirements to enter Kenya, the driving licence requirements in Kenya, the valid documents for driving in Kenya, and essential road conditions, rules, and etiquette when driving in Kenya. Likewise, at the end of this guide, you'll find some recommended road trip destinations and how to get to them by car.
Do I Need an International Driving License in Kenya?
An International Driving License is one (1) of the valid documents for driving in Kenya. You can drive in rental car in Kenya as a foreign passport holder, but only if you have a valid domestic driving license from your home country and an International Driving Permit/License. For example, if you are a U.S. resident, you can go driving in Kenya with your U.S. license.
An International Driving Permit is most necessary in Kenya if your domestic driving license is not written/printed in Swahili, English, or Roman Alphabets. To add to your convenience, you can use an International Digital Driving License in Kenya if you don't want to keep additional physical documents.
An International Driving Permit is also beneficial when you want to convert your native driving license to a Kenyan driving license. This applies to individuals who want/need to stay in Kenya longer than the allowed duration of the tourist visa. All you need to do is register/log-in to the National Transport and Safety Authority's (NTSA) eCitizen portal, navigate to the "Application" tab, then "Driving License Application", and finally, "Conversion of Foreign License Application".
Can I Use My Native Driving License in Kenya Without an International Drivers Permit?
As mentioned, Kenya allows foreign nationals to drive in the country with their domestic driving license for a maximum of 90 days or as permitted by their visa. For example, you can go driving in Kenya with a U.S. license and not need any more to secure a visitor's driving license. However, as mentioned, if you're driving license is not in English or Swahili, you'll need to secure an International Driving Permit.
The International Driving Permit will not only help you explain your identity and driving qualifications to local authorities, but it will also allow you to rent a car in Kenya. Car rental companies require lessors to have third-party car insurance. An International Driving Permit will be a valid document to secure a car insurance policy.
Renting a Car in Kenya
The best way to experience Kenya is to get a Kenya Car Rental. There are several car rental companies offer different types of vehicles that can cater to every location. Nonetheless, the right car for you will depend on your itinerary and your budget. It would be useful to plan ahead your itinerary since car rentals are often cheaper when booked in advance.
Documents Required
It's not that difficult to rent a car in Kenya. The process and policies are more or less similar to other countries. To rent a car in Kenya, you need to satisfy the following requirements:
Valid driving license from home country
Valid International Driving Permit
Valid passport
A common question also asked by a lot of travelers is if there is a need to take driving classes in Kenya to rent be able to rent a car. The answer is no, it is not required.
Road Situations
Out of over 63,500km classified main roads in Kenya, almost 48% are earth roads, 36% are gravel roads, and the rest are paved roads. According to the Road Inventory Data of the Kenya Roads Board, around 40.7% of paved Kenyan roads in the country are in poor condition, while 35.6% of them are in fair condition. For unpaved Kenyan roads, the majority of them are also in poor condition.
The paved General Kenya roads are within the Nairobi Business District, and these mostly come in two (2) carriageways with two (2) – four (4) lanes each. There are rarely any potholes within paved Kenyan roads; however, if you travel outside urban centers, you may need to watch out for potholes, especially during the rainy season.
Car Insurance Cost
The cost of car insurance depends on a number of factors. The reason why insurance companies send you quotations and not fixed-rate menus is because they need to calculate your premium first based on your age, your preferred policy term, and your preferred coverage.
Some car insurance companies also offer daily rates for some of the riders. If you're going to rent a car in Kenya, you can expect that the car rental company might offer you additional insurance riders on top of their standard coverage.
When you rent a car in Kenya, you don't need to scout for your own car insurance because car rental companies will prepare it for you already. You will still have to pay for it, though. You may also need to pay for additional coverage depending on the car rental company's policy.
The Road Rules in Kenya
In order to have a smooth travel experience in Kenya, it is important that everyone on the road stick to the traffic rules — be it in the centers of Nairobi and Mombasa, on the outskirts along the Serengeti, or on the shores of Lake Turkana.
Important Regulations
If you do not follow the road rules, you may face corresponding consequences, including accidents, paying fines, imprisonment, and impounding your driving license. Nevertheless, as long as you put in mind safety and responsible driving, you should be alright.
Drunk-Driving
Drinking alcohol will diminish your ability to concentrate, evaluate situations and respond quickly. This is most risky when you are driving alongside other vehicles, turning, stopping, reversing, parking, and doing other maneuvering activities.
Kenyan authorities do breathalyzer driving tests on suspected drivers, and it is against the law to refuse or not comply. If you get caught drinking and driving, the driving-while-drunk penalty in Kenya is a payment of not less than 100,000Ksh. Likewise, depending on the degree of violation, you can face imprisonment of up to two (2) years.
If you want to drink alcohol and still need to drive, make sure that you only drink a small amount. This is to ensure that you don't go beyond 0.35g/liter of breath or 0.8g/liter of blood. Better yet, find a non-drinking driver to take you to your destination.
Parking Laws
Kenya has strict local laws for parking. You should only park in designated parking spots/bays only, or risk paying a fine of up to 50,000Ksh, and imprisonment of up to three (3) months. To compensate for the growing demand for parking areas in beautiful cities in Kenya, the government even allows private entities to establish parking areas for the general public at a minimal price.
Vehicles exempted from this law are those in a state of emergency or vehicles responding to emergencies. If your car breaks down and you need to wait for rescue / towing services, make sure to place a triangle or any sign before and after your car.
Ensure Your Vehicle is in Good Condition
Before going out on the road, regularly check your vehicle's condition. It has to be mechanically sound, and the exteriors (like mirrors, windshields, tires, lights, etc.) are not broken. If you're driving a rental car, make sure to request safety and emergency gear from your car rental company. This may include a small fire extinguisher, warning triangle, first aid kit, a spare tyre, a jack, and a jumpstart cable, to name a few.
General Standards of Driving
If you skim through the Kenya Traffic Act, you'll find that the policies are well designed to cater to the different road and vehicle conditions in the country (as it should be in all other countries as well). Although these standards are universal, what sets each country apart are the corresponding penalties. The provisions below are what you'll need to remember in Kenya.
Speed Limits
When driving anywhere in the world, you should not drive too fast nor drive too slow. Driving fast may cause accidents, while driving too slow may cause inconvenience to other vehicles that are in a hurry. In Kenya, you should not drive above the following speed limit:
Superhighway (motor cars) – 130km/hr
Superhighway (public service vehicles) – 100km/hr
Urban primary roads (trading centers, townships, cities, etc.) – 50km/hr
Special zones (i.e., schools) – 50km/hr
Rural Kenyan roads – 110km/hr
If you get caught violating the speed limits in general, you will be liable to a fine of up to 100Ksh. In addition, if you defy the rules within school zones, you will be liable to a fine of up to 20,000Ksh.
Driving Directions
Kenya has plenty of roundabouts. With this, you have to know which lane you should be driving in upon approaching the roundabout. In addition, once you are inside the roundabout, and your exit is halfway around where you came from, you should maneuver to the right hand drive vehicles lane.Make sure to look out for directional signs when approaching roundabouts.
Driving Signs in Kenya
Driving signs in Kenya are divided into three (3) main categories: the regulatory signs, the guiding sign, and the warning signs. This shouldn't confuse you because the standards are still similar to other countries. Triangle signs are for warning, circle signs are the regulatory signs, while rectangle signs are to give road users information.
Right of Way
The vehicles that are exempted from all local laws for traffic are emergency vehicles and those belonging to the presidential motorcade. Emergency vehicles include fire trucks, ambulances, and police vehicles. However, it should be good to note that such vehicles are only exempted when they are on official business. This means that they are being used to respond to an emergency or a road incident.
If an ambulance, a police car, or a fire truck is used not to respond to emergencies, it would be illegal for them to use their sirens, park in a non-designated parking space, and drive over speed limits.
Driving Side in Kenya
The driving side in Kenya is on the left-hand side of the road. It is one of 13 African countries that drive on this side of the road. Foreigners who are not used to driving on this side of the road are encouraged to take lessons in registered driving schools in Kenya. If you are spending just a short time in Kenya and don't have enough time for driving lessons, perhaps you can arrange with your school to have your practical lessons towards the different foreigner drive destinations.
Driving Etiquette in Kenya
Apart from complying with the road rules, proper road behavior is paramount to maintain peace and order on the road. There may be unruly drivers, so if you practice proper road etiquette, you may be able to steer away from untoward accidents caused by them.
Car Breakdown
Car breakdowns can involve deflation of tyres, empty fuel tanks, overheating, battery problems, and many more. If no other potential hazard has developed, like fire, maneuver your vehicle away from the middle of the road. If you can't do it by yourself, try to find people nearby who can help you. In addition, you have to observe the following:
Turn on your hazard lights even if the car is already on the side of the road
Place a warning triangle at least 40m before and after your car
Call your car rental company immediately for assistance
Police Stops
When traffic police randomly wave you over outside a checkpoint, slow down and come to a complete stop. Ensure that practice courtesy and behavior when talking to the police. Prepare your driving documents such as your license and car registration papers. As a precaution, make sure to lock all your car doors before you come to a full-stop. You also do not need to go out of your vehicle unless you are told to do so.
To avoid corrupt officers who charge you unfairly, make sure that you have the M-Pesa application. It is mobile payment software where you can pay for your traffic violations instead of giving cash to the officers.
Asking Directions
In case you find yourself lost while driving in Kenya, you can approach the nearest locals and ask them courteously. Make sure that you know the correct name of the place you are headed to and show them pictures or the map to help you. A lot of Kenyans understand English very well. But if you want to practice your Swahili skills, you can use the following phrases:
How Do I Cross Kenyan Intersections?
Once you sit in the driver's seat, you should have a full view of the road. This means that the windshield and glass windows are not broken for you to check both directions unrestricted. It is important to reduce your speed and look both ways, especially when you are at a busy intersection, to ensure that there are no emergency vehicles or other oncoming vehicles that you need to give way to.
Apart from that, looking both ways will ensure that you do not collide with other vehicles that are also crossing the intersection. You still need to maintain enough space, especially when you are turning a corner.
Are There Animals on Kenyan Roads?
When you're driving out of the city and into the rural zones, you may encounter animals, both domesticated and wild. National parks and safari adventure areas in Kenya are rarely fenced, so the animals roam around freely.
With this, when you come across animals on the road, reduce your speed and leave room for them to pass. If the animals are crossing the road, wait for them to get off the road and do not sound your car horn or rev your engine. If there are other vehicles behind you, you can also signal to them that you are waiting for the animals to cross. This is for them to avoid scaring the animals also.
What Do I Do If I Cause A Road Accident?
If you meet an accident, immediately stop and do not speed away. You can be charged with a hit-and-run violation if you do so. You should also call the police right away.
If there are passengers or other road users who are injured as a result of the accident, try to administer first aid and call immediately for an ambulance. Help keep the victim/s calm and let them know that help is on the way. For the vehicles involved in the accident, do not move them away from the scene and take pictures right away if you have the means to. This does not provide evidence to your insurance company and have untampered evidence for the police.
Once the police arrive, you should provide all your necessary information. Failure to provide the police with the correct information will hold you liable for additional violations.
Drive As A Tourist
If you're just thinking about booking a safari package in Kenya, think again! Wouldn't it be more exciting to go on a self-drive safari aboard the coolest safari vehicles in the world? You can always hire a tour guide that could ride along with you if you are not confident. But definitely include safari-driving on your Kenyan bucket list.
The Top Destinations in Kenya
Kenya has a lot of scenic driving routes. The landscape is just so breathtaking that even if you didn't have a destination, the drive itself could already be your itinerary. Some of the best driving routes in Kenya include: the Nairobi to the Mara Intrepids route, the Nairobi to the Kisumu Impala Sanctuary route, and the Nairobi to Samburu National Reserve route.