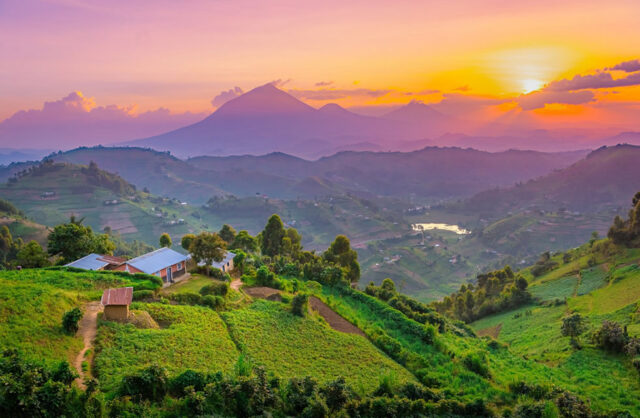 Uganda is home to ten protected areas that have been gazetted as national parks. These parks protect a vast range of flora and fauna.
Three of the most visited national parks of Uganda are;
Murchison Falls National Park:
Located in North Eastern Uganda, Murchison Falls National Park is Uganda's biggest national park as far as its area is concerned. It covers a total area of 3.877 square km.
The Murchison Falls engulfs the flowing tributaries of river Nile forming a narrow crevice; due to the passing of the river Nile through this region, a 40 m drop is formed. The eastern section of the national park has another famous waterfall, Karuma Falls; here the river Nile has cascaded to form rapids ranging over a length of 23km; this has made this place one of the most sought after white water rafting destinations of Africa. The national park is home to animal species like hippopotamus, giraffe, lion, elephant, crocodile, buffalo and innumerable breeds of birds and antelopes.
Queen Elizabeth National Park:
This Uganda based national park covers an area of 2,056 square km. The feature that makes this national park unique is the variety of ecosystems housed by it.
Here, you will come across green meadows, tropical semi-deciduous forests, swamps and savannah grasslands. This wildlife preserve is also famous for being home to tree climbing lions. The other species found in Queen Elizabeth National Park are: buffaloes, hippos, baboons, elephants, chimpanzees, Uganda Kob and several antelope species. A real treat is waiting for the bird watchers visiting this national park. The park has more than 500 avian species, out of which the most remarkable ones are: 11 breeds of kingfisher, the black bee-eaters, eagles, falcons and shoebill storks.
Mgahinga Gorilla National Park:
This national park is situated on slopes of Virunga Mountains. The Virunga Mountain is located on the extreme southwest of Uganda. This park was established with the aim of offering a perfect habitat to the gorillas. However, this place is also home to other animals like buffalo, leopard, golden monkey and bushbuck.
The park is one of the most scenic places you will come across while on safari in Uganda. The park is home to three of the eight conical Virunga Volcanoes. These mountains beautify the sky while you are still miles away from the park.