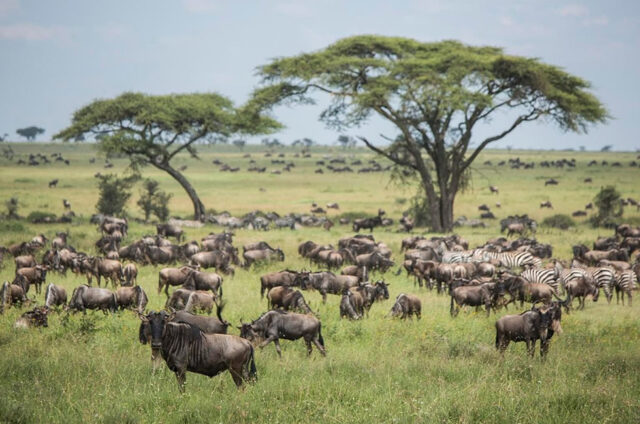 The Serengeti National Park is a huge park that locates in the Serengeti area of Tanzania. This national park is the most renowned for its yearly migration of more than two million white bearded wildebeest, 200,000 zebras, and one and a half million Thomson's gazelle. Serengeti National Park covers a land area of 14,763 square kilometers, which is of grassland plains and savanna and of course riverine forest and woodlands as well. The park is located in the north of Tanzania, and is bordered by the national Tanzania and Kenyan border towards the north. This area is continued forward by the Masai Mara National Reserve.
Serengeti National Park offers amazing and breathtaking attractions worth visiting. This national park has something that charms the wildlife that gets attracted to the park from other areas. The major example of the wildlife is the ungulates. The park is also renowned for its strong reserve of other resident wildlife, especially the Big Five, which is named for the five most prized trophies that were taken by the hunters. The animals are Lion, Leopard, Elephant, Black Rhinoceros, and African Buffalo. The park also holds many additional species like cheetah, topi, eland, Thomson's and Grant's gazelle, waterbuck, hyena, impala, African wild dog, baboon, and giraffe.
The huge plains of Serengeti include 1.5 million hectares of Savannah. Their predators follow the yearly migration to permanent water holes of gigantic herds of herbivores, which is among the most luring natural events in the entire world. Well, Serengeti National Park is the mixture of wildlife and greenery. The nature makes this area more attractive. The wildlife survives through the two water areas like the Grumeti River and the Serengeti Hippo Pool.
If you love to explore the geology and want to see the hominid remains and tool then you are in the best place for it that lies at a distance of 30 miles to Olduvai Gorge. To reach there you have bus and mini-bus routes that trace across Tanzania. Well, somewhere you will get very poor routes as well. If you really want to explore this amazing wilderness, then just hire a four-wheel drive vehicle and go for it.
The park's area is as big as the Northern Ireland, but its ecosystem that comprised of Ngorongoro Conservation Area, the Maswa Game Reserve, and the Massai Mara Game Reserve in Kenya is hardly the size of Kuwait. The Serengeti National Park is no doubt a world popular wildlife sanctuary that offers natural beauty and scientific assessment together. Moreover, the wildebeest and zebra are the star cast of an exceptional spectacular 'the annual Serengeti migration'