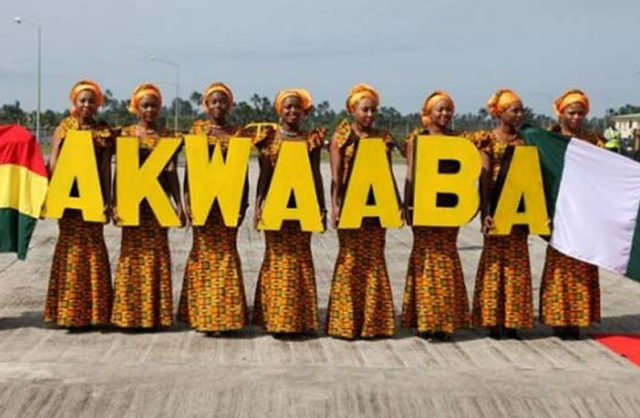 All is set for the 13th edition of Akwaaba Travel Market, the biggest travel and tourism fair in West Africa. The three-day event, which holds today at Eko Hotel and Suites, Victoria Island, Lagos, is expected to end on Tuesday. And to spice this year's event, there is going to be a Chef Challenge, a culinary contest to confirm the West African country that cooks the best Jollof rice.
The occasion will be declared open by the Director General, National Council of Arts and Culture (NCAC), Otunba Olusegun Runsewe. Already, the Jollof rice challenge has created buzz and excitement amongst competing countries. The challenge is organised with the sole aim of promoting culinary tourism in Africa, and will have chefs from Nigeria and Ghana competing, as well as a group of Nigerian chefs, who will compete for the best prepared rice in varieties.
The second Africa Travel and Tourism Conference will also hold on the second day, when speakers and panelists will be addressing such topics as: "One year of Accident-free commercial aviation. What did Africa do right?" "African Airlines and profitability, the real issues, Airport perspective, Regulations perspective, Airlines' perspective."
The President/CEO, Sabre Network NMC, West Africa, Mr. Gbenga Olowo, who is the guest speaker, will be speaking on the topic: "2016: Commercial Aviation Accident-free Year. What Did Africa Do Right," a topic that is germane to African aviation sector. Olowo is an economist and business administrator, with uninterrupted cognate experience in Aviation sector.
The Women in Tourism Conference 2017, will have Deputy Minister of Tourism, Zimbabwe, Anastacia Ndlovu, as guest speaker with the theme: "Women in Tourism, Challenges and the Future." This session will allow leading women in tourism to discuss the various challenges facing women in tourism and proffer, both short and long term solution to these challenges.
The third day will feature Youth in Tourism Conference 2017, with CEO of Tambollo, Sekimi Ifederu as guest speaker. This seeks to address the challenges young people in travel business face in promoting domestic tourism in Nigeria, while bringing together youths in the sector, as it seeks to bring them into organised travel and tourism business.
Also, the event will hold a Wedding Destination session, which will feature destination experts, and moderated by seasoned destination wedding manager and CEO 'Once Upon A Destination,' Mrs. Seyi Olusanya, to explore top targeted wedding destinations and honeymoon spots across Africa. The demand for tourism increases for various reasons, including weddings, honeymoon and family getaways, which cannot be ignored.
Adding more glamour and razzmatazz to the event is Carnival Calabar. The 13th Akwaaba is set to offer those that have only seen the Carnival Calabar on TV an opportunity to have a firsthand experience of the biggest street party in Africa. The National Troupe of Ghana will be sharing the stage with Carnival Calabar to entertain visitors.
This event is a unique opportunity for Africans in travel trade market to meet, negotiate, network and conduct businesses with players from elsewhere.
Maison Fahrenheit Hotel, one of the uniquely designed hospitality facilities in Lagos, in partnership with Akwaaba African Travel Market, will be hosting a cocktail event at an after party for African Travel Market delegates.
The Hotel, located on the Island, has 26 exceptionally decorated room and four suites with a varied mix of Svengali's trademark, exquisite and sassy colour combinations. With an electric fusion of ultra-modern and vintage décor, the rooms are relatively spacious and airy with abundant natural light, ocean views mod cons and pristine designer bathrooms.
Designed by international interior designers, the hotel has a lot of items in its rooms, which depict the exotic lifestyle of guests. The Rue 80 Bar and Lounge of the hotel presents a breathtaking views of the Atlantic Ocean setting the backdrop for this avant-garde rooftop Lounge. The La Spiga Restaurant of the hotel has an inspired Afro-Continental culinary experience that features a mix of well styled local and international dishes, from known to the unexpected, but all meeting various desires. Masion Fahrenheit hotel is among other hospitality providers to showcase special offerings of the brand.
It has been confirmed that the first African female commercial Airline pilot, Captain Captain Irene Koki Mutungi, will be the Chief Judge for the culinary event. She is a Kenyan, while all other judges are non-West Africans. Captain Koki is also the first African woman to captain a B787 Dream liner, as well as the first woman to command an all-female B787 operation in the world. A serial award winner, she flies for Kenya Airways. The public will also be allowed to sample and judge in the #jollofricewar.
The Jollof rice contest at the 13th Akwaaba, African Travel Market 2017 has received yet another boost, as Funtuna water has been declared the official water supplier. The company delivered some packs of water to Akwaaba for the upcoming event.
Recently, Olam Rice also showed solidarity by delivering some bags of Mama's Pride Rice brand of 1kg, 5kg and 10kg to a team from Akwaaba.
Speaking at the company's office in Lagos, Olam's Regional Sales and Marketing Manager, Mayowa Joshua, said the organisation is excited and looking forward to be at the travel fair.
The culinary event is aimed at promoting tourism in West Africa, by showcasing the best to an international audience. These activities were created purposely to bring out the best in West Africa, in terms of rice production and promoting culinary tourism and local delicacies to foreigners, thereby promoting indigenous hospitality and style. Akwaaba African Travel market has introduced the Chef Challenge and Food Expo on the hospitality day to foster local food experiences amongst travelers, as well as promote culinary tourism and entertainment.
Five Ghanaian chefs from the Chefs Association will battle their Nigerian counterparts to a Jollof Rice contest for a grand prize.